Columbia Trail Tromp
Join us for the 2nd Annual Columbia Trail Tromp – a Memorial for Bill Harrington Sr. - on Sunday, August 28, 2011. Our goal is to help Stomp out Cancer by raising money for The Advanced Research Foundation (www.myarf.org).
This rain or shine event will start at Somerset Hills Bank in Long Valley. Starting time for walkers is 6:15 AM. Bikes start at 7:00 AM.
Parking is available at Toll Brother's Regency on Fairview Avenue in Long Valley. The walk will go through Califon and finish in High Bridge before heading back to Long Valley for a total distance of 24 miles. A shuttle bus from Califon and High Bridge is available if necessary.
Pre-registration to Bike, Walk or Run is required at www.lvva.org. The donation is $20 per person or $50 per family (up to 4 participants). Each participant will receive a t-shirt and "goody bag" on the day of the event. More detailed information is also available at www.lvva.org and on Facebook.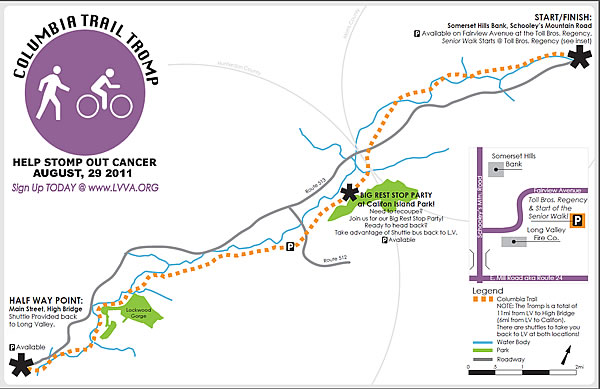 For information regarding sponsorship and volunteering please email [email protected] or call 908-672-2458. Become a friend on Facebook!
Thank you in advance for your support. See you there!